Welcome to Faith United Church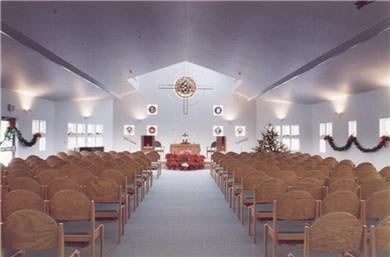 Faith United is a multi-denominational (PCUSA and UCC) community of believers serving in the lake shore community of Oswego, New York. Our Mission to the community is an active focus on both physical hunger (Souper Bowl of Caring, CROP Walk, serving meals at the local Soup Kitchen, collections of food for our local food pantry) and spiritual needs (weekly and special worship services) and a church building that is totally handicap accessible, hearing amplified, and ecologically friendly.
Our Sunday Morning Services are now being Live Streamed via Zoom

If you would like to join our new live stream service offering, please join us at 9:15am Sunday morning.

There are two ways to join:
1. Click on the following link from your smart phone or computer: https://zoom.us/j/207196571
a. If you have not used the Zoom application in the past, you will be asked to download and install this free application.
i. You do not have to create a zoom account to join the live streaming of the worship service.
b. Once Zoom has been installed, you will be connected to the worship service (you may have to re click on the above link if you are not automatically joined)
c. You will be prompted whether or not you would like to share your video and audio; this decision is completely up to you and will not impact your ability to see or hear the worship service.
d. I am sorry that we will not have live support available to assist you during this process, but please email me with questions or difficulties you encounter so that these can be addressed for future services.
2. Join the worship service over traditional phone service (no video but you will be able to hear the worship service) Warning: long distance charges may apply depending on your phone plan!!
a. For this option, please dial one of the following numbers and follow the prompts:
i. Dial by your location
+1 646 558 8656 US (New York)
+1 312 626 6799 US (Chicago)
+1 301 715 8592 US
+1 346 248 7799 US (Houston)
+1 669 900 9128 US (San Jose)
+1 253 215 8782 US
Meeting ID: 207 196 571
How to make a contribution (offering) to Faith United Church from home.

Yes, Faith United Church is now live streaming its service so our members can remain safely at home during the COVID-19 pandemic, but the church still has to pay its bills. We encourage you to continue to submit your contributions (offerings) to us. There are two ways you can do this:
Send it to us through the mail. (Postage will cost you $0.55)
Send it to us electronically. Here's how:
·Log on to www.uccny.org (the UCC conference website) and click the DONATE button.

·Enter the requested information.

·Most important…CHECK THE OTHER BOX AND PUT YOUR CHURCH'S FULL NAME IN THE BOX. Please include the city/town.


Example: Faith United Church, Oswego, NY


Transaction fees:(deducted from the contribution)

Debit/Credit Card = $3.20 per transaction

ACH/Bank Account = $0.55 per transaction (note: the cost of doing it this way is the same as if you sent it through the mail)

Thank you for your continued support of Faith United Church!

A Message From Our Pastor, Andy Hinman
Welcome to Faith United Church of Oswego. As the new settled Pastor, my goal is to continue this congregation's long standing commitment of providing congregants, visitors, and those longing for acceptance an open and welcoming experience.
We are all in various stages of navigating a life journey that will contain all kinds of obstacles, some of which may shake our core beliefs. However, in those times of hardship God is present placing loving miracles to lift us up and remind us that we are unconditionally loved and accepted. As a community that accepts and reciprocates the teachings and love of Jesus Christ, Faith United is a safe haven free of judgment in which all can come together to live in the renewed hope of Christ.
In the safety of community, we have the opportunity to learn Christ's teachings while applying what we learn to our own lives. This means that we must be open to being uncomfortable at times, as we realize that we are ever changing individuals exploring and uncovering the talents God has placed within us, sharing those gifts with the community and world around us to uplift and build up those in need.
Pastor Andy and his family

From the south on state rte.481: 

Turn left at the first traffic signal

on to Utica St.
Turn left at the second traffic

signal on to W. 5th St.
Travel south on W. 5th St. for 1.4

miles.
Turn left on Mark Fitzgibbons Dr.
Travel 0.2 mile, church is on right.

From the east on state rte.104:
Drive to the center of town, crossing the Oswego River.
Turn left at the 3rd traffic signal after the bridge on to W. 5th St.
Travel south on W. 5th St. for 1.7 miles.
Turn left on Mark Fitzgibbons Dr.
Travel 0.2 mile, church is on right.

From the west on state rte. 104:
Enter city of Oswego on rte. 104.
Continue on rte. 104 until you reach W. 5th St. Turn right.
Travel south on W. 5th St. for 1.7 miles.
Turn left on Mark Fitzgibbons Dr.
Travel 0.2 mile, church is on right.